In 1958, Edwina Mueller completed a home study course in doll repair from the Doll Hospital School of Aledo, Illinois, and opened a doll hospital and gift shop in her home in Washington, New Jersey. In an effort to build the business she contacted others involved in the doll world for items to be sold in the gift shop. She soon realized she enjoyed corresponding with dollmakers and doll collectors more than repairing dolls.

Her love for dolls most likely came from her love of children. In addition to raising her family of seven children, during her lifetime she cared for more than 65 foster children, many of them with mental or physical disabilities. As a child she spent summers with relatives in Nebraska and South Dakota where she saw Native American Indians. From that time on she also had a special love for Indian children.
In 1961, along with her eleven year old son Barry, who had just been introduced to the art of printing, she started the Doll Castle News. It was a small nordstrom promo code publication created to help doll collectors share interest in their hobby. Subscriptions were sought and the publication, started at the kitchen table, began to grow. The very first issue was 4 ¼" x 5 ½" in size and contained 12 pages. 50 copies of that issue were printed and sent to doll friends throughout the U.S. with an invitation to subscribe. The publication soon grew to a 5 ½" x 8 1/2" size with as many as 102 pages. In 2000, Doll Castle News went to a 8 ½" x 11" format. The Mueller family has continued to publish Doll Castle News since 1961, taking pride in its "homey" format.

Over the years many writers from throughout the U.S. were added to create a publication with great appeal to the general doll collector. Well known doll world personalities including Jean Bach, Johana Gast Anderton, Helen McCook, Ruth Dugan, Barbara Guyette and Robert Dankanics are just a few of the writers who have contributed to the pages of Doll Castle News. Presently, R. Lane Herron, Joan Chiara, Cheryl Stanek and Claire Shefler are regular contributors and Virginia Ann Heyerdahl is contributing editor.

Mrs. Mueller passed away in 1996 but her son Barry continues publishing Doll Castle News in the same manner. Daughter Dorita Alice has assumed the role of editor and granddaughters Jennifer and Debbie also lend a hand in the magazine's production. The family takes pride in publishing a magazine that is filled with information to read and minimal advertising.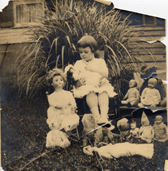 Edwina L. Fox, (Mueller) our founder and mother shown here posing with her doll collection in 1916.
In loving memory…of Edwina L. Mueller, "Mom", and founder of Doll Castle News.
Who would have guessed that when "Mom", then little Edwina, posed for this photo in 1916, at the tender age of three, she would grow up to be the best "Doll Lady" and "Mother" there ever was.

She always enjoyed sharing photos of her family and writing about special events in their lives, on "Mom's Page", now Barry and I would love to share a few photos of her and her dolls. She was an only child and therefore counted on her dolls and teddy bears as devoted companions. She learned at an early age the important aspects of being a dedicated and loving mother. Many times she told us about her memories of growing up in Washington, New Jersey, still the home of Doll Castle News, and she pointed out the several different houses she lived in as a child and young adult. She remarked about the care she took in packing and moving her cherished dolls and teddy bears.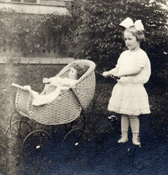 Edwina, practicing to be a good mommy, taking her favorite doll for a ride in her wicker carriage.
When she married in 1931, she began to raise a family. She and her husband Ewald brought five children into the world, adopted two, and cared for more than 65 foster children in their lifetime. Anyone who had the opportunity to get to know her agree that she was the BEST mother, biological or not, that a person could have. Her caring and giving never stopped, and when she began sharing her love of dolls with the March - April 1961 issue of Doll Castle News, it was the beginning of a dream come true. Now some 55 years later we continue sharing just as she would be, if she were still with us today.